The Client
Funtastic is an entrepreneurial marketer and distributor of consumer branded lifestyle merchandise with products spanning all aspects of family life – from children's toys, apparel and footwear to sporting goods, homewares, DVD and entertainment.
The Brief
Bayly were tasked with designing a new ride-on toy aimed at children moving up from a baby walker product. The toy was required to be steered with just the feet and needed to be easy to manoeuvre and stable.
Why Bayly?
Bayly were recommended to Funtastic as being an organisation capable of delivering the right combination of design skill, experience and manufacturing knowledge for the job.
The Project
The Scamble Bug™ is a ride on toy with a realistic insect appearance.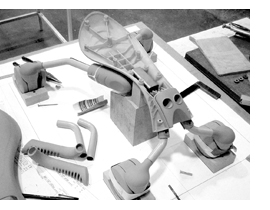 Designed to help children develop balancing, pushing and steering skills, it forms the bridge between the baby walker and ride-on pedal toys. The castors have been designed to allow for free flowing movement in all directions and the high, fixed handle bars and splayed legs ensure stability of the daredevil rider. For the less confident child, it is easy to steer and ride and delivers them independence, mobility and builds their confidence.
Easy to fold up in 3 simple steps and lightweight too, the Scamble Bug™ is designed for parents on the move. It fits easily into the boot of a car, behind the front seat or even under a bed between uses. The main body of the Scamble Bug™ safely houses all the latches and tube housings and allows the character of the Scamble Bug™ to be evident in its folded and upright poses.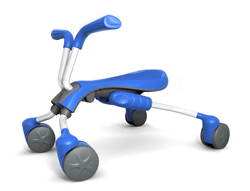 The shape of the seat has been specifically designed to provide plenty of room for a child's legs to stretch forward and kick back as they glide around on non-marking rubber tyres, protecting all floor surfaces. Large rounded surfaces and corners care for legs and other obstacles that might be encountered.
Child's safety and compliance is vital in any children's product. The Scambler Bug™ passes Australian/NZ, European and American Standards as tested in independent laboratories. Design consideration has been given to the appropriate use of materials, confirmed through physical testing. The Scamble Bug™ was awarded an Australian International Design Mark™ in recognition of good design in 2008.

Outcomes
Bayly completed the design of the Scramble Bug™ and manufactured a prototype for testing. Funtastic commissioned the tooling and procured the Scramble Bug™ from its manufacturing sources in China. The Scramble Bug™ is sold around the World.
Services supplied to Funtastic
The project included research into the market and ergonomic requirements for the product, the development of conceptual solutions,engineering analysis against Australian and International Standards, detailed component and material specifications. A prototype of the toy was manufactured, assembled and tested.