FLAT win an Australian International Design Award 2010 for their revolutionary levelling system.
Lee Baker and Lloyd Fenn were on hand at the Australian International Design Awards ceremony in Sydney this year to celebrate FLAT winning an Australian International Design Award.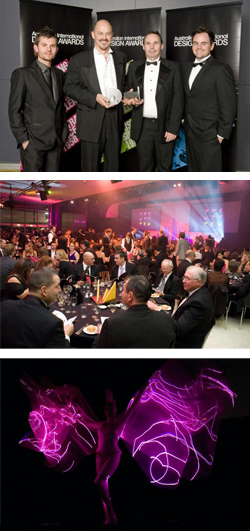 The technology being developed by Tony Pike and his hard working team has been a few years in the making, but last year saw the launch of a product aimed at stabilising café tables all around the World.
Our role in the FLAT story has involved the development of the product from proof of concept to a market ready form, building from the base of the creative inspiration, hard work and development undertaken by FLAT and it's design team.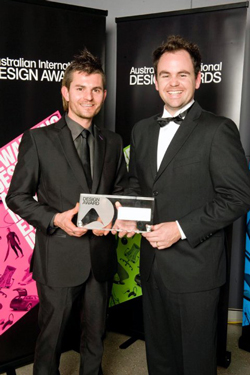 This has been a significant project for the Bayly team due to the complexity and the performance requirements for the system as well as the size of the scope of work including materials evaluation and selection, component design, performance analysis, system simulation, tooling management, test equipment design, test process development and pilot batch production and testing. The program was completed over an intense 13 month period and delivered within 8.5% of the original budget with many thanks to our network of suppliers and collaborators.
Seeing FLAT progress with the commercialisation of their technology has been great and we expect them to be very successful at fulfilling their business objectives.

To read more about the FLAT system, check out their website , or review their product on the Design Awards Website
Give us a call on 03 9413 9000 if you are looking for an award winning new product development partner.