Our first Balance Bike for kids
As Christmas here in Melbourne fast approaches we are reminded not to take life too seriously, to have fun and to embrace the inner child in all of us.  Nothing says being a child more than scooting around on a bike and thats exactly what we as product designers had to do during the development of our first balance bike for Y-Volution.
For those that don't know balance bikes are small bikes without pedals designed to assist children to learn to ride faster by first learning to balance on two wheels while having the safety of their feet available to catch them.

While this is all fun and games you would be surprised at how technical a balance bike actually is.  As with all children's products there are a range of local and international standards that govern the way in which a product must be designed in order for it to be deemed safe for sale in each respective country.  These include but are not limited to trapping hazards, stability requirements and minimum loading capacity.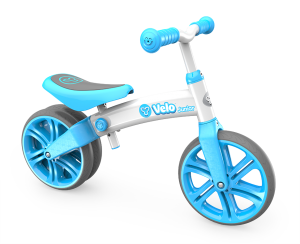 Ergonomics also play a huge role in the product design of toys for children and getting this right can be tricky business.  Each child develops so differently and is ready to engage with a product at a different developmental stage so in this case the bike must accommodate a wide range of child sizes to help suit everyone.  Initially we developed two versions of the bike, a smaller one with twin rear wheels to assist with balance and a larger one for the bigger kids, we then developed a balance bike that converts into a trike.
Designing for children is certainly fun and rewarding but it doesn't come without it own set of unique challenges which are in many way more demanding than designing for adults.  If you do have young children and haven't already started them on a balance bike maybe now is the time.  On the other hand if you have an idea for a childs product or a technically challenging project you need help with please contact our product designers in Melbourne on (03) 9413 9000 or email us at This email address is being protected from spambots. You need JavaScript enabled to view it., we're here to help realise your dream. 
Don't miss out. Sign up for our newsletter now!
Click on the Videos below to see the bikes in action.
{flowplayer width=640 height=360}/images/video/Y Velo Balance Bike.mp4{/flowplayer}
{flowplayer width=640 height=360}/images/video/Y Velo Jr. Balance Bike.mp4{/flowplayer}
{flowplayer width=640 height=360}/images/video/YVeloFlippa.mp4{/flowplayer}