Bayly's current work in the transport market involves the design of a range of caravans for Relaxed Australia.
The first product in the range is a 6m twin birth and is currently undergoing road trials, soon be shipped to Australia for further evaluation.
These vans are being manufactured in a purpose built factory in Shanghai for export and domestic markets.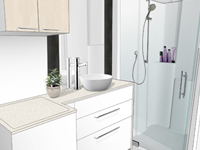 The current model explores the use of a single level floor so that no wheel guards interrupt the floor.  The van features a slide out sleeping zone that increases the open space in the van.

Aesthetically the design is clean and uncomplicated.  In the market release, the van will include flush mount windows to create a seamless apperance.  The interior colours and finished will be adapted for the consumer market's preferences.
Lightweight all composite construction 
The sides, roof and ends of the van are all manufactured from lightweight high strength glass fibre composites.

The vans are fitted with the latest appliances and fittings from Dometic.
Contact This email address is being protected from spambots. You need JavaScript enabled to view it. on 03 9413 900 or by email to discuss what Bayly can add to the success of your new products.