What is PLM?
Like CRM, PLM is not a single software product that can be rolled out consistently across different companies and industries, but in reality is the flow of information between different people, departments, organisations and systems.

A major component of a PLM system is the coordination and management of the data that defines a product. Typically it involves processes such as managing engineering changes, release of drawings and component specifications, configuring product variants, managing documents and data as well as the planning and coordination of project resources, timescales and risks.

At a product design and engineering level, the management of the product BOM (bill of materials – parts list) is the key structure to the PLM system employed by an organisation and it operates in the domain of Product Data Management software. Necessarily, the information in this system is also used and managed within other corporate systems including CRM, SRM, ERP and EDM systems.

There are many companies that supply software tools and services in support of PLM processes. Large software companies such as Dassault , Siemens PLM Software, PTC and Oracle provide products that can cover most areas of PLM requirements. Other companies provide specific software components aimed at specific PLM functions.

Recently emerging PLM software options include those delivered through an open source model, for example Aras , and those provided through on-demand models (software as a service) options such as Arena Solutions and Datastay.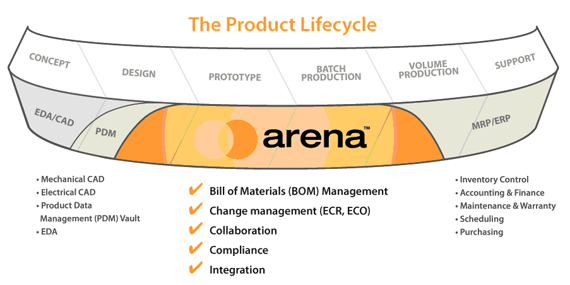 Bayly Group embraces PLM
Mark Bayly while in Melbourne recognised the need to improve the way that the geometry data, product structure and specifications were managed for our clients in 2002.

Says Mark, "We were delivering CAD data and drawings to our clients, their toolmakers and suppliers and other organisations on an ad-hoc basis. Email delivery was the preferred process, although we often found ourselves burning and distributing CDs and DVDs of large amounts of data.

Whenever I thought about how we were relying on the product design team consistently using a manually updated spreadsheet file system to send the right data, I would look at what new options were around to reduce the risk in the process.

PLM in those days consisted of PDM systems that were additional components that could be added to our CAD systems to manage the actual CAD data files and other status information. In a multi CAD system environment including ProEngineer, Autocad, Solidworks and Unigraphics systems, finding a solution to cost effectively handle all the information was impossible.

Gradually the cost of the CAD vendors PDM and PLM systems came down as the vendors began offering cross platform support and "plain vanilla" installations "straight out of the box." These systems were still expensive, over $100,000 for the software alone and with the additional hardware requirements, installation, training, minimal customisation and system administration costs, priced well outside the reach of our business."

In 2008 Bayly Group embarked on another round of evaluation systems after coming across Arena Solutions.

"We looked at PTC's Windchill on demand offering and the open source Aras options as well as the Arena Solutions offering" says Mark Bayly.

"In the end we selected the solution offered by Arena and have now had about 18 months experience with the software."

"Ideally I envisaged us using the software for every one of our projects as the software was essentially just managing the manual process that we had always used. We have found though that not all of our clients are ready for the increased complexity that the PLM software and system involves. There is always effort required to establish the part numbering, categories and coding systems, and on small simple projects, we have found that we can manage the data effectively using our web based project collaboration sites that are setup for each of our clients."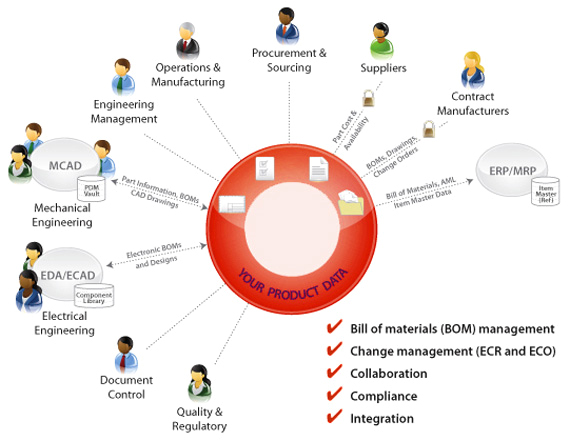 Clients embrace PLM
Mark says "We have now run projects for Washpod, Aviation Data Systems, Bluglass and Mainsflush through the Arena system and have collaboratively used it to manage the structural data and specifications as well as the design release, costing and even engineering management change process."

In Mark's view, "clients receive added value using the PLM system through the delivery and sharing of a structured and configured BOM, access to component datasheets, documents, CAD files and drawings, images, component costs, reports and other product and design data that have been collected and generated in the design of the product. Compare that with the old process that was just a zip file of pdf drawings and geometry data."

Two of Bayly's clients, Washpod and Mainsflush, have adopted Arena's PLM software into their business processes.

Mark says "the transfer of the data from our database to our client's database was easily achieved with Arena's technical support"

Ewan Fisk, Technical Manager at Washpod recalls "the data transfer was a non event. The Arena guys did it and that was it".

From Ewan's perspective, "the Arena software is great because it needs no additional IT capability beyond a web browser. To contemplate running software internally would require a significant IT investment"

Ewan says "the change control process in Arena is straight forward and easy to use. With Arena we are able to centrally manage and publish the data and share it with our various suppliers and make communication very effective".

Eventually Bayly's clients need to decide how they handle the data that is in the Arena system. Long term, they need to decide how they take the information into their other systems or whether they just download the data and manage it manually. If they decide to subscribe to Arena's PLM system, they retain access to all the functionality and data and can incorporate it into their business processes. In the simplest case, a full Arena subscription starts at a cost around $1,850 per annum and is a reasonable investment considering the overall investment companies make in product design and development projects.
Contact our Product Design team in Melbourne on 03 9413 900 or by email to discuss how PLM systems may be suitable for your business. Mark will be able to discuss our experience and your needs and refer you for further assistance.