Ten years ago, Tony Pike was having coffee at his friend's restaurant when the table wobbled and the coffee spilled.  While his friend was crouching on the ground trying to figure out how to balance the offending table, he made a remark that stuck in Tony's mind and led him to develop a technology that has the potential to be used in just about every industry around the world.

"He said to me, 'Whoever can solve this problem will make millions," Tony says. 
FLAT leveling and stabilization  technology is based on a system of interconnected actuators that communicate via a central manifold to automatically level items fitted with the system on any uneven surface.  A proprietary internal braking / locking system that uses gravitational force prevents further movement as load distribution changes on the item.
Bayly have completed the market ready design of the product for incorporation into table bases and furniture items.  The project has been completed within 10% of the initial project budget and has delivered a product ready for presentation to the marketplace.  Final design updates are planned prior to full scale production in 2009.
Bayly have taken the initial functional prototype design produced by FLAT and re-designed the system for mass production.  Just about every aspect of the design of the system is critical.  The actuators and system need to perform in rough commercial environments and provide years of fault free service and still be able to be produced for a handful of dollars in order to be able to provide value in the marketplace.  This has been achieved by using high performance plastics including Polyurethane and PBT and Silicone elastomers that are manufactured using extrusion, injection moulding and compression moulding processes.  Assembly of the system needed to be able to be completed through a range of manual to automatic manufacturing processes to suit different production / sourcing scenarios around the world.
Bayly provided the complete design and prototype tooling and components to the project.  Endurance test equipment and functional test rigs were also designed, commissioned and supplied under the program and we continue to provide technical support to FLAT's engineering team on the project.
Check out the technology and its ever expanding range applications at the 
FLAT website
 and contact Tony Pike on 02 9692 0035 if you have an application for this technology.  Check out the wobble free tables when they get to your local coffee shop.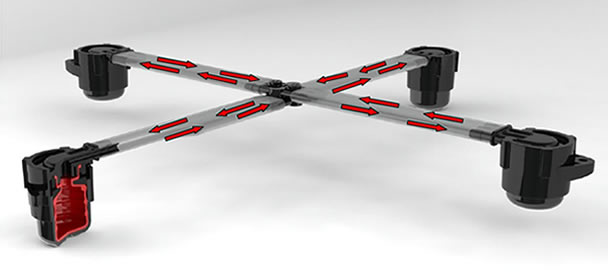 The image above shows a FLAT® system with four (4) feet at the point of contact with the surface, the first foot to contact will retract forcing fluid to flow to the other feet. This process is repeated for the remaining feet until the last foot makes contact, at this point the pressure within the system increases and the valves are activated, locking the system.