Collaboration tools are definitely something we can't do without. For an insight into how we are approaching collaboration, read on.
I am sometimes asked about what collaboration tools we use in our design process.
Collaboration is an interesting word that means different things to different people, from a simple 2 way communication between people to include the broad range of activities required between organisations involved in complex open innovation and design projects.
I look at the key component of collaboration as being the process of working together to reach a common goal – in our case a designed solution; something that people have been doing since the beginning of our time on earth.

What has impacted the activities of collaboration has been the development of technologies that work to enable people to work together more easily. We can look back in time, from the congregation of people in townships, the domestication of animals for transport, the wheel, roadways, shipping, mail systems, telegraphs, railways, automobiles, planes and telephones and through to the advanced telecommunications technologies available today to see that all these been the significant collaboration tools of their time.
In the old days....
At the start of my professional career, our collaboration tools consisted of a large co-located workforce, telephones, meeting spaces, telex, telegram and the internal and external mail services. Today, our collaboration tools are far removed from the old (only mid 1980's old mind you) methods.

Face to face and telephone communication tools still dominate my tool set, but we are moving towards emails, texts and instant messaging as the preferred tools. I sometimes wonder how a physical mail system could cope with the sheer volume of communication that takes place today. I can't see how it could.
Our current toolkit
Other than the development of digital storage and retrieval technologies and the indispensible email, the most important tool that has developed for our business and business processes has been the development of web based tools. Excluding the "broadcast" or one way communication style of our website, some years ago now, we started sharing digital data with some of our clients using a content management system (CMS) to drive a web based database that we set up for larger clients and their projects with some success and support. At the time we considered establishing a Microsoft Sharepoint based system but chose the less complex CMS based approach due to its lower cost. Over the last 2 years, our CMS approach has been overtaken by the arrival of effective web based services delivered on the "software as a service" model.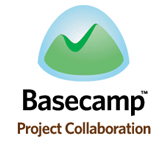 Today we use the "basecamp" system developed by the team at www.37signals.com to establish secure collaborative work spaces with our clients. Access is controllable and is established on a project by project basis. The basecamp tools are used to communicate, plan and manage tasks, leave data and pictures, share files and ideas. By its nature, basecamp is flexible and relatively unstructured and is not tailored to a specific type of business or business process but has been designed to be able to be used as widely as possible. There are many solutions being offered in this market for general use, including Huddle, Google and HyperOffice to name a few. There are also process specific solutions designed for software development etc.



As an example, our Arena Solutions based PLM (Product Lifecycle Management) system is a process and task specific tool set that incorporates collaboration tools within. The system is able to be opened to colleagues, partners and suppliers through finely controlled access rights according to roles. Relevant data is able to be added by all the people involved so that all the relevant aspects of the PLM system can be collected, used and shared by all stakeholders in the product lifecycle.
What's the key?
When considering the best solution for our business we favoured the options that provided control to the end users and content owners, freeing us from a reliance on consultants and experts to manage the systems.

Faced with the challenge of being the best facilitators of collaboration with our clients, suppliers and partners we feel that the key to success is to be able to adapt to the preferences of those involved in the process rather than by prescribing a structured method. In some relationships we still rely heavily on face to face communication and fax transmissions and in others, the majority of activities are conducted via email.

We have focused on choosing systems and ways of doing things that allow people to collaborate as they prefer. This requires us to be in tune with the fine balance between system structures and rules and its trade off against the constrictions that people feel to conform rather than using tools the way they would prefer. We always start off with an open and flexible approach and adapt to the norms of behaviour that develop between the people involved.

In a world where more and more organisations are beginning to operate in an open innovation mode, the use of effective collaboration tools is paramount.

Our organisation must continue to develop its collaboration tools and capabilities and importantly, maintain capabilities in the established processes that suit the wide range of clients, suppliers and partners with whom we deal.

If you have any examples of how you are working in this area that you would like to contribute, I'd like you to get in touch. Give me a call on 03 9413 9000 or email This email address is being protected from spambots. You need JavaScript enabled to view it.